Enhancing Product Value Through Provision and Collection of Proper Information and Through Activities that Meet Medical Needs and Community Characteristics
Drugs are of no value unless they can be used properly in those who are suffering from disease while undergoing medical treatment.
We conduct scientific information dissemination activities based on market research and analysis, not only to properly provide and collect evidence-based information but also to offer therapy options appropriate to patient needs and community characteristics.
Marketing Activities to Enhance Product Value
The Sales & Marketing Division has the Oncology Business Unit,the Primary Care Business Unit, and their respective medical representatives (MRs) develop a strategy formation based on market research that constantly ensures competitive advantage by adjusting with agility to environmental changes in each stage of the product life cycle to maximize the potential of every product we offer.
In addition, we make every effort to collect patient opinions through meetings with healthcare professionals to understand potential healthcare needs toward development of narrative based medicine (NBM), which is based on the actual clinical experiences in patients. Based on needs obtained through these efforts, we will conduct future information dissemination activities to enhance product value.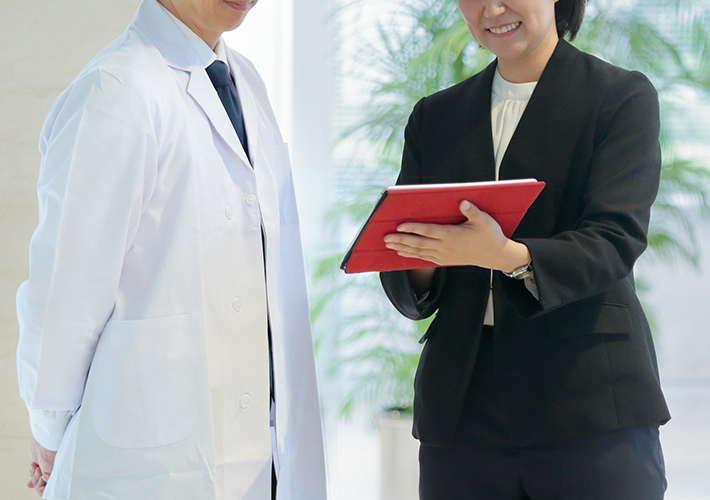 Developing a More Efficient Sales System
Our information-sharing framework enables our MRs to share across the company the valuable information they gather from the frontline of healthcare. We also continually pursue brining effciency to MR activities by using the FAQ system and AI. In the primary care domain, we work with a medical case zone-based marketing system that allow for closer community-based area activities, as well as team management encouraging inter-domain communication. In the oncology domain, we divide MRs into two teams—one with focus on lung and renal cell cancers and the other with focus on gastrointestinal and hematologic cancers to strengthen their expertise and improve the quality and quantity of information that they will provide to healthcare professionals.
Prompt and Appropriate Provision of Medical and Scientific Information
One role of drug manufacturers is to relay up-to-date information as quickly as possible about daily advances in healthcare to the frontline of healthcare and to provide opportunities for information exchange. We actively provide information by organizing symposiums and seminars in conjunction with academic conferences held in Japan and through workshops and lectures in regional areas. In addition, we put effort into disseminating up-to-date drug information through operatin several websites for medical professionals.In FY2019, we continued to hold web-based seminars and product presentations in line with various needs, including more than 130 live webinars, to relay up-to-date drug information to the frontline of healthcare.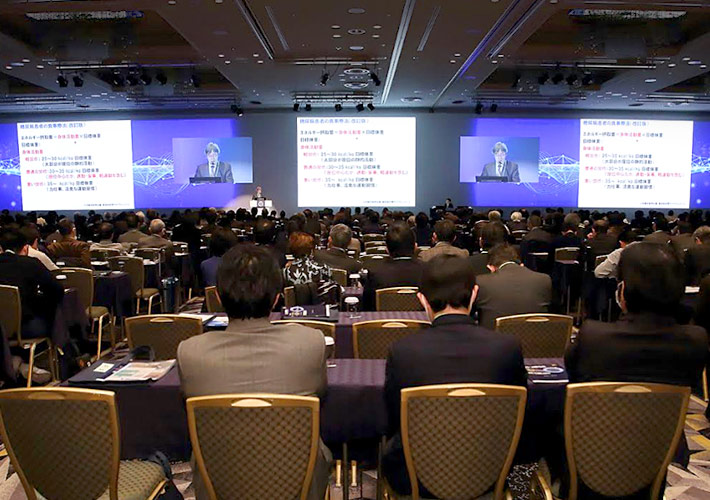 Our Medical Affairs Department works to attain a high level of expertise and academic knowledge in oncology and primary care domains to assess and collect medical and scientific needs of healthcare professionals through meeting with experts or attending at advisory board meetings. In response to request from healthcare professionals, we provide such evidence-based medical and scientific information with transparency to contribute to the healthcare frontline.
Strengthening Community-Based Activities
In response to changes in medical care systems toward the establishment of community-based integrated care systems, our MRs make new problem-solving proposals and consult with medical providers by understanding the characteristics of the medical care system of each community area, so that we can provide drugs that truly benefit each individual patient, to become a player who can be appreciated by medical professionals.
In October 2018, we recruited more staff in the Area Support Promotion Department across each community area to assess, and promote solutions to, challenges and needs of government bodies and healthcare institutions.
In October 2019, we made an organizational reform in the primary care domain to strengthen organizing ability and increase marketing productivity.
Based on team organization per secondary medical care zone, we completely reformed our organizational structure into a system that consists of 3 business divisions with 12 branches and 97 sales offices. We also streamlined our reporting lines in a three-layer structure—MRs, sales office directors, and branch directors—for prompt decision making and active communication.
In the oncology domain, we have an organization with two teams—one with a focus on lung and renal cell cancers and the other with a focus on gastrointestinal (including stomach) and hematologic cancers, both providing relevant information.
We train MRs in this domain to have highly specialized expertise to become oncology MRs who are highly appreciated by healthcare professionals. Our MRs are rated by healthcare professionals as providing high-quality information.
Enhancement of Training Programs
To provide information that truly benefits patients, MRs work to enhance their professional quality, as well as product and disease knowledge, by keeping their skills up to date to verify healthcare professionals' needs.
We also hold field training programs at medical institutions. With cooperation received from medical institutions, we provide MRs with field training at dementia, diabetes and cancer care facilities, as well as at dialysis centers.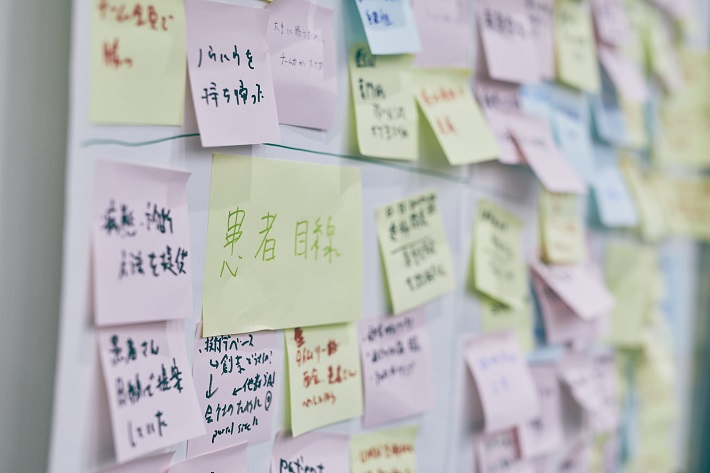 Use of AI (Details)
MIRAI Answer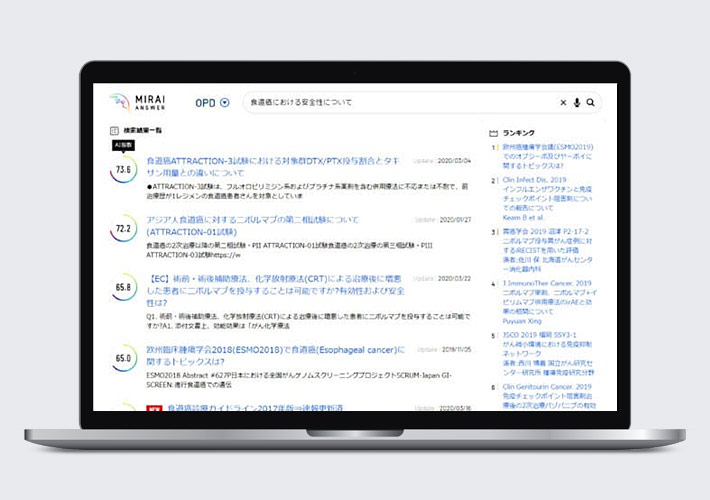 We have strengthened our artificial intelligence (AI)-based MR support systems. The drug information system "MIRAI Answer" is a chatbot (automated answering system) that provides MRs with drug safety information and up-to-date clinical trial or paper information. The MR asks questions in text or voice to the system and it will give 10 different answers per question. If the MR asks, for example, "what is the evidence for advanced lung cancer?" the system shows the answers in descending order of relevance. It is easy to find an answer to the MR's question at a glance. The system also helps MRs learn by themselves.
MIRAI Doctor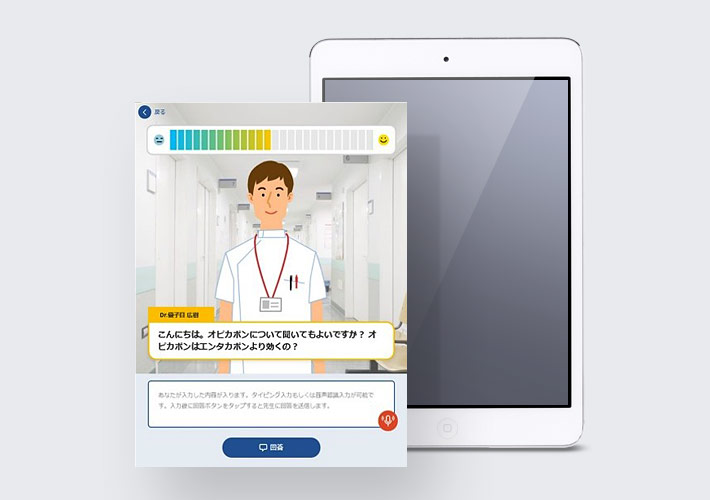 The AI-based scoring learning support system "MIRAI Doctor" gives MRs "role-play training" on tablets, which is designed to simulate interacting with doctors. The system asks questions, the MR answers them verbally, and their answers are automatically recorded and scored. The system allows MRs to use in-between times efficiently, e.g., at home or in business car, to study by themselves. The system also contains an pet caring game that takes advantage of its scoring function, encouraging MRs to continue using the system.