Open Innovation That Supports Drug Discovery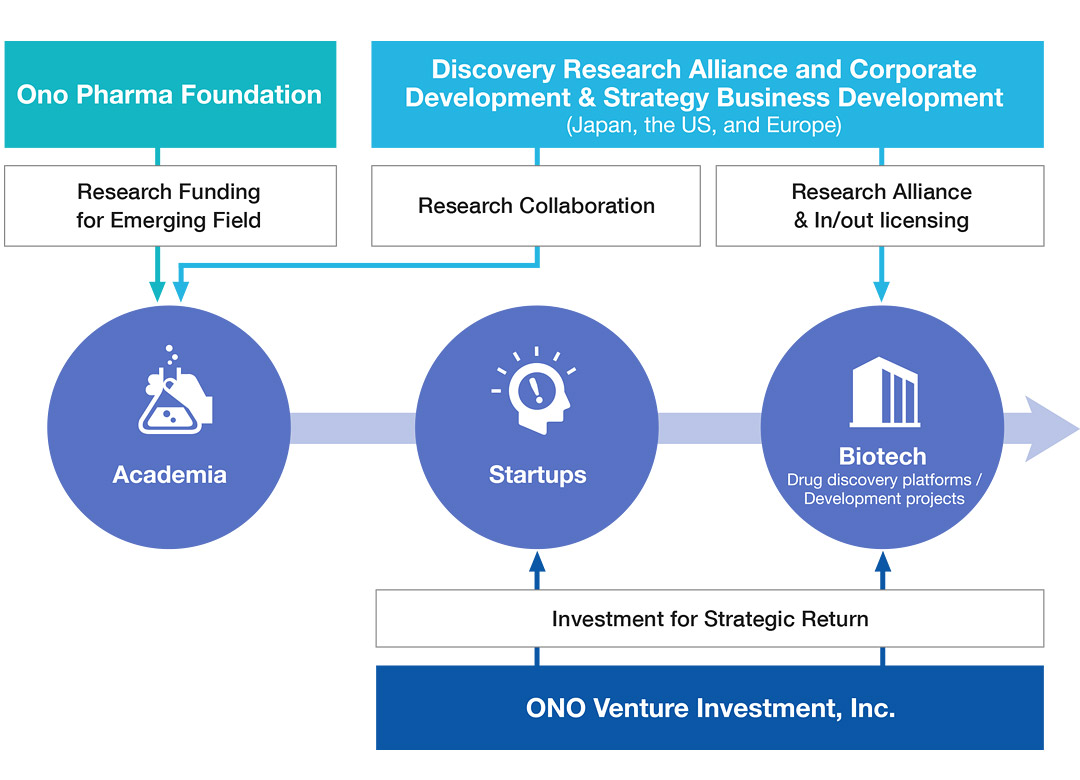 Even before the widespread use of the term "open innovation," ONO was already involved in the discovery of new drug seeds through partnerships with universities and other research institutions, and had been using these seeds as a starting point to create innovative new drugs. The Discovery Research Alliance Department and the Business Development Department are presently taking the lead in forming drug discovery alliances with world-class researchers and bio-ventures with a focus on our priority research areas, and are actively in-licensing various drug candidates. We are working on these collaborative activities with a sense of urgency in order to obtain cutting-edge research data before our competitors and to leverage this data in expedited drug discovery. Our locally incorporated subsidiaries in the US and UK are permanently staffed by researchers with practical experience in drug discovery, and we are visiting world-leading researchers and venture companies in Europe and the US to launch more new partnerships.
In 2017, we established the Ono Pharma Foundation in the US to set up academic research grants with an eye to the future, and have succeeded in building a cutting-edge scientific research network of grant recipients. In FY2020, we launched US subsidiary Ono Venture Investment, Inc. to further enhance our competitiveness in drug discovery and R&D via strategic investments in drug targets and advanced technologies enabling breakthrough new drugs.
In the same year, we also concluded sponsorship agreements with LabCentral and MBC BioLabs—two private non-profit organizations supporting the development of emerging bio-ventures—thereby consolidating a framework for early access to the latest information on emerging bio-ventures. ONO also joined the University of California (UC) Drug Discovery Consortium, which boasts the largest network of academic biomedical researchers in the US We will continue to promote R&D in our priority areas by pursuing collaboration on early-stage research projects at UC.

ONO PHARMA FOUNDATION has research grant programs for prospective researchers who may bring about innovations in the future.

Ono Venture Investment invests in early stage biopharma startups for the purpose of drug target identification and in-licensing or partnering of cutting-edge technologies to discover innovative drugs.