Corporate philosophy and policy
Under our corporate philosophy "Dedicated to the Fight against Disease and Pain", we are committed to fulfilling unmet medical needs. We aim to develop innovative new drugs that deliver true benefit to patients.
We are highly aware of our responsibility as a pharmaceutical company dealing in medicinal drugs upon which human lives depend, and we are working to further strengthen our level of compliance to ensure that all our actions not only fully comply with all legal regulations but also are based on higher ethical standards.
ONO's Value Creation Process
Be a Global Specialty Pharma, competing in the global arena
with original and innovative new drugs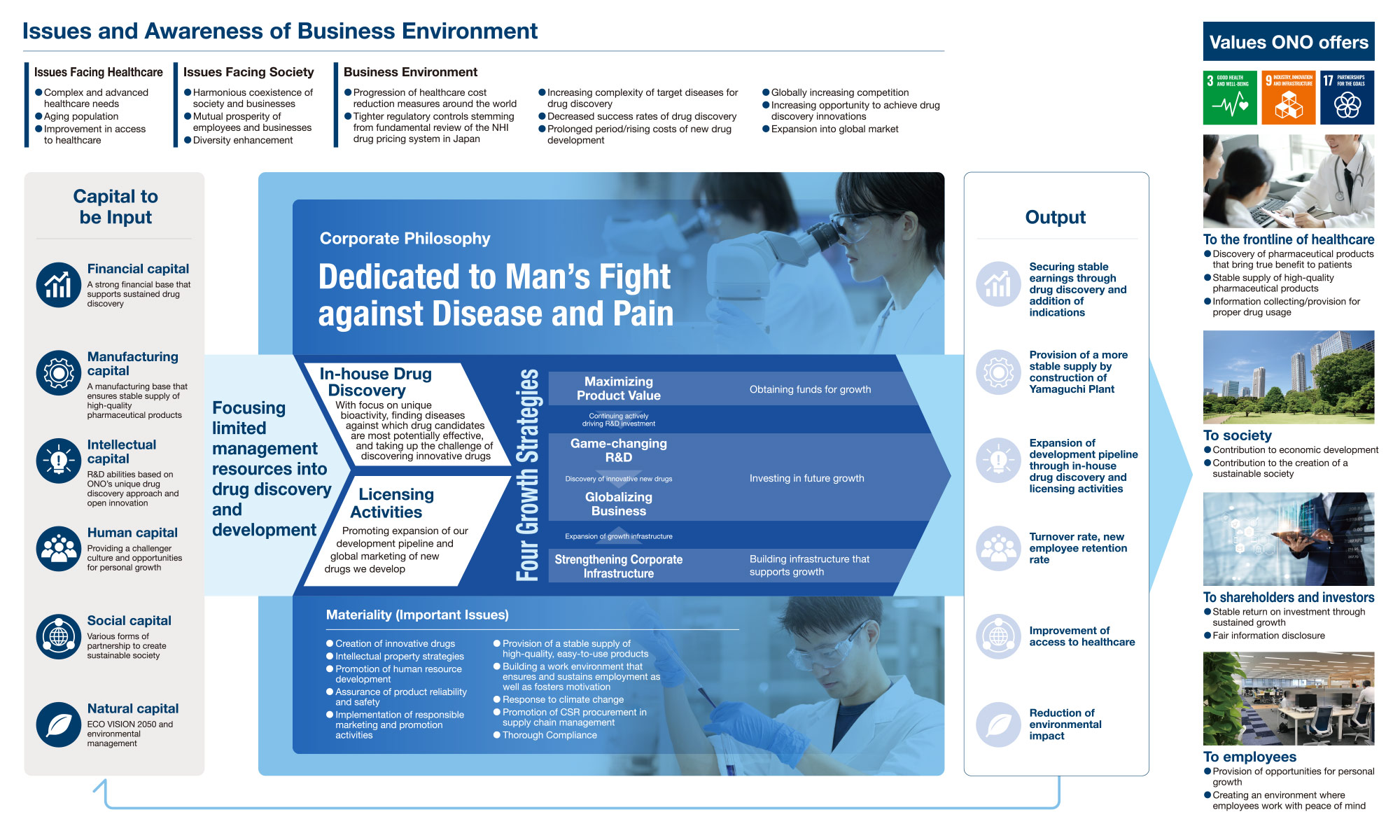 Growth Strategies
We pursue four growth strategies to achieve sustained growth.

To become a Global Specialty Pharma, we pursue four growth strategies: "Maximizing Product Value," "Game-changing R&D," "Globalizing Business," and "Strengthening Corporate Infrastructure".
The strategies have made progress in the past year. For Maximizing Product Value, we received approval of OPDIVO for two additional indications in February 2020, resulting in 9 cancer indications. In particular, one additional indication is esophageal cancer, which makes the drug the first immune checkpoint inhibitor in the world to be approved for the disease. We also received approval of ORENCIA for S.C. Injection and ORENCIA for I.V. Infusion to include the description of prevention of structural damage of joints in current indication of rheumatoid arthritis. In addition, we received supplemental approval of KYPROLIS for Intravenous Injection for additional dosage and administration for treatment of relapsed or refractory multiple myeloma. This approval allows the drug to be administered once-weekly leading to superior convenience, in addition to conventional twice-weekly administration.
For Game-changing R&D, we have identified the oncology, immunology, neurology, and specialty domains with high medical needs as our priority areas of research, focusing management resources into these areas to enhance disease expertise in each. As described above, we have established a corporate venture capital in the US, which is expected to lead to further strengthening of our open innovation and earlier acquisition of new technologies.
For Globalizing Business, we transferred the functions of the Global Clinical Development Division from Japan to our US subsidiary in April 2019. We have completed organizational improvements that enable us to conduct clinical trials and approval application work in the US and Europe.For Strengthening Corporate Infrastructure, we put enterprise risk management (ERM) in place in FY2019, establishing an entire risk management system, under which we identify risks and decide how to respond to them.
Strategic Investments for Growth
We focus on investing in creating new innovations and human resources development.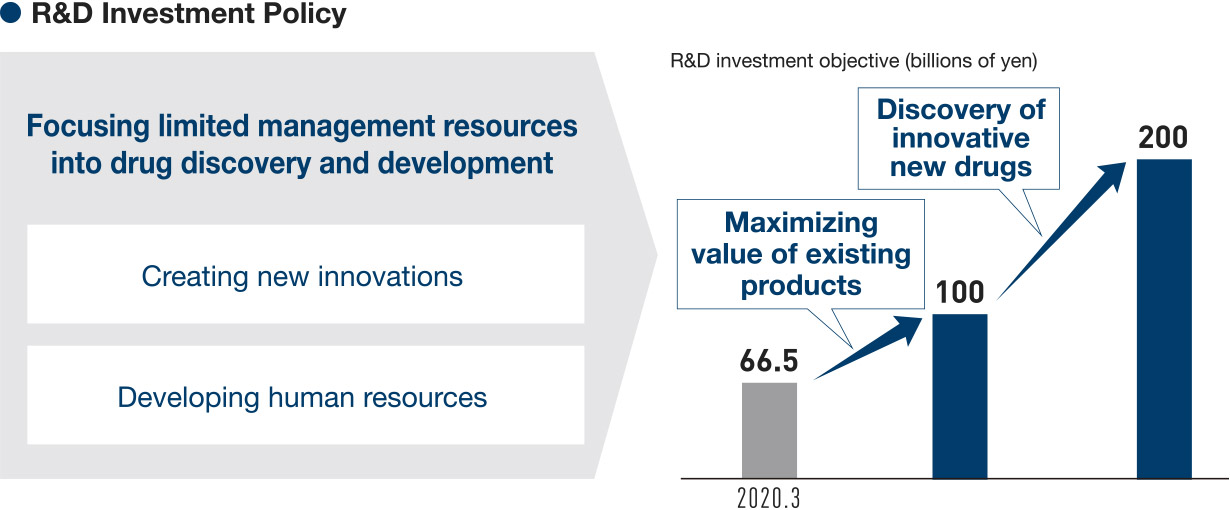 Strategic investments are essential to building piles of future growth. We believe it important to focus our finite management resources on drug discovery and development as an R&D-based pharmaceutical company specializing in new drug development. Our focus of investment is on creating new innovations and developing human resources.
We have pursued quality, not scale, in drug discovery. However, we need a certain scale to secure quality so that we can compete and survive in the fiercely competitive global marketplace in the future. Currently, developing a new drug in Japan costs about 20 billion yen but it takes 10 times that amount, or about 200 billion yen, to develop globally. Even if we created an excellent new drug candidate compound, we would have no other choice but to earn royalties from licensing out it, without enough funding and know-how to conduct clinical trials globally. Given these circumstances, we aim to increase its annual R&D expenditure from the current 70 billion yen, to 100 billion yen initially, and eventually to 200 billion yen, the highest level in Japan. In order to invest that much in R&D, of course, we need to increase sales. However, we expect it is possible to increase the R&D expenditure to 100 billion yen by maximizing the value of existing products, especially OPDIVO.
Regarding human resources, we put considerable effort on the development and acquisition of global human resources. We have started with posting young employees of the research department to joint research and drug discovery alliance partners in Europe and the US. Currently, we are trying out similar programs in the development, clinical trials and marketing departments.
We have also acquired many talents through mid-career professional recruitment. Considering that highly qualified workers are more mobile, we focus particularly on developing our younger employees. We strive to create an attractive work environment that can retain them as long as possible.