Corporate philosophy and policy
Under our corporate philosophy "Dedicated to the Fight against Disease and Pain," we are committed to fulfilling unmet medical needs. We aim to develop innovative new drugs that deliver true benefit to patients.
We are highly aware of our responsibility as a pharmaceutical company dealing in medicinal drugs upon which human lives depend, and we are working to further strengthen our level of compliance to ensure that all our actions not only fully comply with all legal regulations but also are based on higher ethical standards.
ONO's Value Creation Process
Be a Global Specialty Pharma, competing in the global arena
with original and innovative new drugs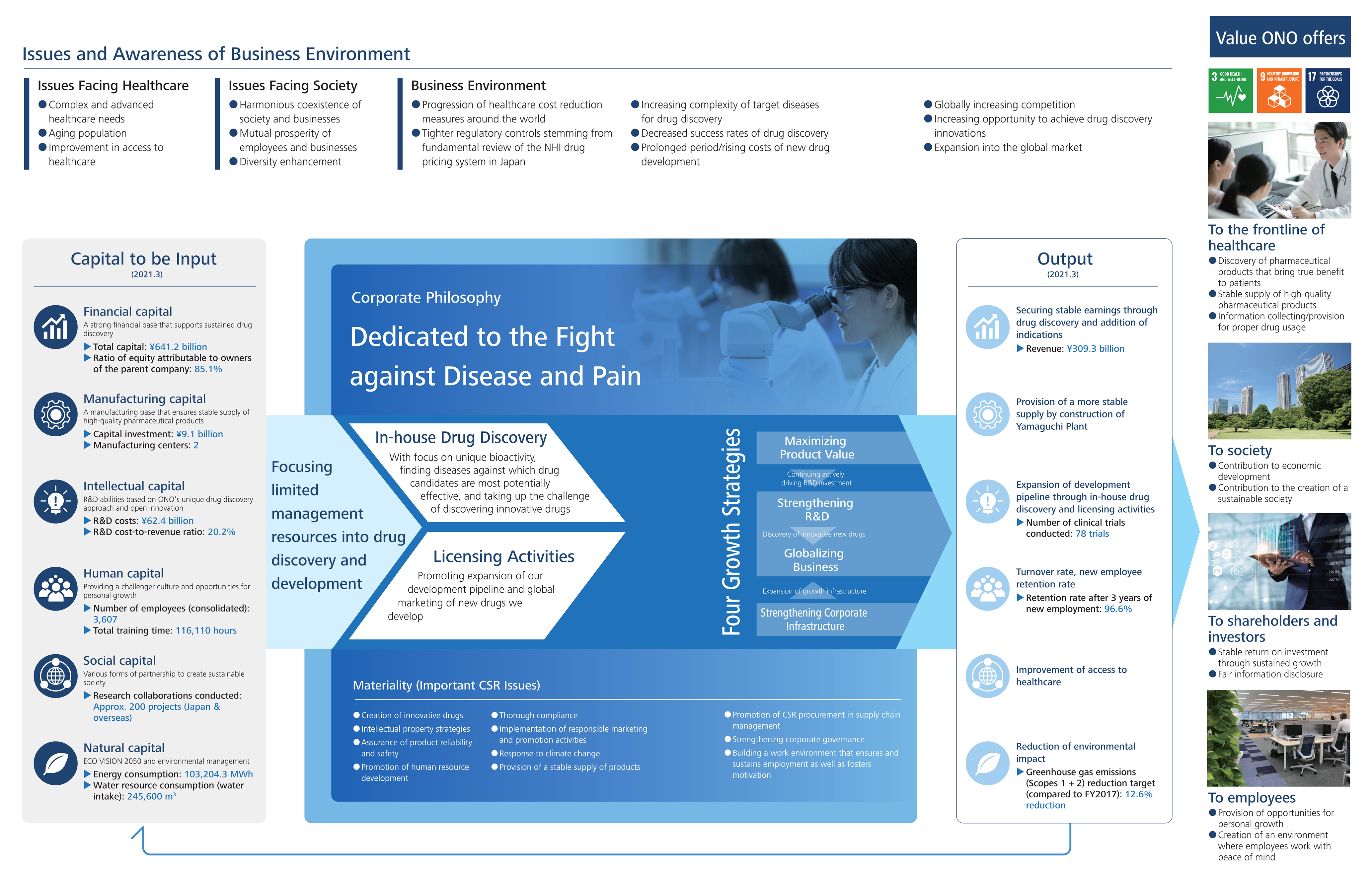 Growth Strategies
We pursue four growth strategies to achieve sustained growth.

To become a Global Specialty Pharma, we pursue four growth strategies: "Maximizing Product Value," "Strengthening R&D," "Globalizing Business," and "Strengthening Corporate Infrastructure".
For Maximizing Product Value, we actively pursue R&D activities to achieve expedited market launch and additional indication approval. We also develop a strategy formation that constantly ensures competitive advantage by adjusting with agility to environmental changes in each stage of the product life cycle, to achieve peak sales in the shortest period from launch and to maximize the potential of every product we offer.
For Strengthening R&D, we have identified the oncology, immunology, neurology, and specialty domains with high medical needs as our priority areas of research, focusing management resources into these areas to enhance disease expertise in each. We are also using open innovation to further enhance our competitiveness in drug discovery and R&D.
For Globalizing Business, after we transferred the functions of the Global Clinical Development Division from Japan to our US subsidiary in April 2019, our US subsidiary was relocated to Cambridge, Massachusetts in April 2021 and opened a new office in order to create a system in which we can conduct our own operations from late-stage clinical trials up to applications for approval in the US and Europe in addition to the existing implementation of clinical trials at an early stage. In the future, we will accelerate development in the US and Europe and establish a system by setting a goal of expansion of our own sales operations.
For Strengthening Corporate Infrastructure, we are training personnel who can lead globalization and increasing diversity, and we are strengthening activities for the Environment, Society and Governance.
Strategic Investments for Growth
Over the medium-to-long term, we will work towards greater profitability by proactively investing in growth leading to increased shareholder value, and will maintain an appropriate level of shareholder equity by effectively balancing shareholder returns.
Investment Policy
Strategic investments are essential in building a foundation for future growth. As an R&D-based pharmaceutical company specializing in new drug development, we are focusing our limited management resources on drug discovery and development, while also striving to deliver greater profits through more efficient expenditures.
Although R&D costs are expected to rise over the medium term, we intend to reinvest around 20% to 25% of revenue into R&D and are aiming to achieve an operating profit margin of at least 20% by generating increased revenue. By targeting these financial benchmarks and increasing profits through expanded revenue, we expect to realize higher ROE levels.
ONO's basic approach to capital raising consists of ensuring the necessary liquidity to facilitate our business activities and maintaining the Group's financial health and security. Capital raising efforts are undertaken in an effective and flexible manner in consideration of market environment and other factors. The Group's current assets have consistently and significantly surpassed its current liabilities, thereby allowing funds to be sourced internally. By reducing our cross-shareholdings, we plan to generate approximately 100 billion yen in cash for investing in future growth.
Growth Investments—Strengthening Our Healthcare Businesses
ONO is proactively investing in R&D with the dual aims of discovering original and innovative new drugs and expanding our existing development pipeline. Through these investments, we intend to bolster our spending on R&D to the 100 billion yen mark while also increasing revenues.
More specifically, we are vigorously pursuing drug discovery partnerships with bio-ventures that possess some of the world's most advanced technologies, as well as drug discovery-oriented research collaborations with universities and other research institutions. By the close of FY2020, our joint research program comprised 182 joint projects in Japan and 96 projects overseas, and we plan to undertake even more projects in the future.
ONO is also strengthening its licensing activities to actively acquire promising compounds in early-stage development (i.e., non-clinical and Phase I) as well as late-stage development candidates with a potential market launch within the next few years.
In July 2020, we established the Ono Venture Investment Fund I, L.P. to make direct investments in seed-stage drug discovery startups. The Fund will also actively pursue investments in fields outside of drug discovery, such as healthcare and digital technologies.
Over the next five years, we are planning to invest between 150 and 200 billion yen in these areas in addition to our regular spending on R&D.