Corporate philosophy and policy
Under our corporate philosophy "Dedicated to the Fight against Disease and Pain," we are committed to fulfilling unmet medical needs. We aim to develop innovative new drugs that deliver true benefit to patients.
We are highly aware of our responsibility as a pharmaceutical company dealing in medicinal drugs upon which human lives depend, and we are working to further strengthen our level of compliance to ensure that all our actions not only fully comply with all legal regulations but also are based on higher ethical standards.
ONO's Value Creation Process
Be a Global Specialty Pharma, competing in the global arena
with original and innovative new drugs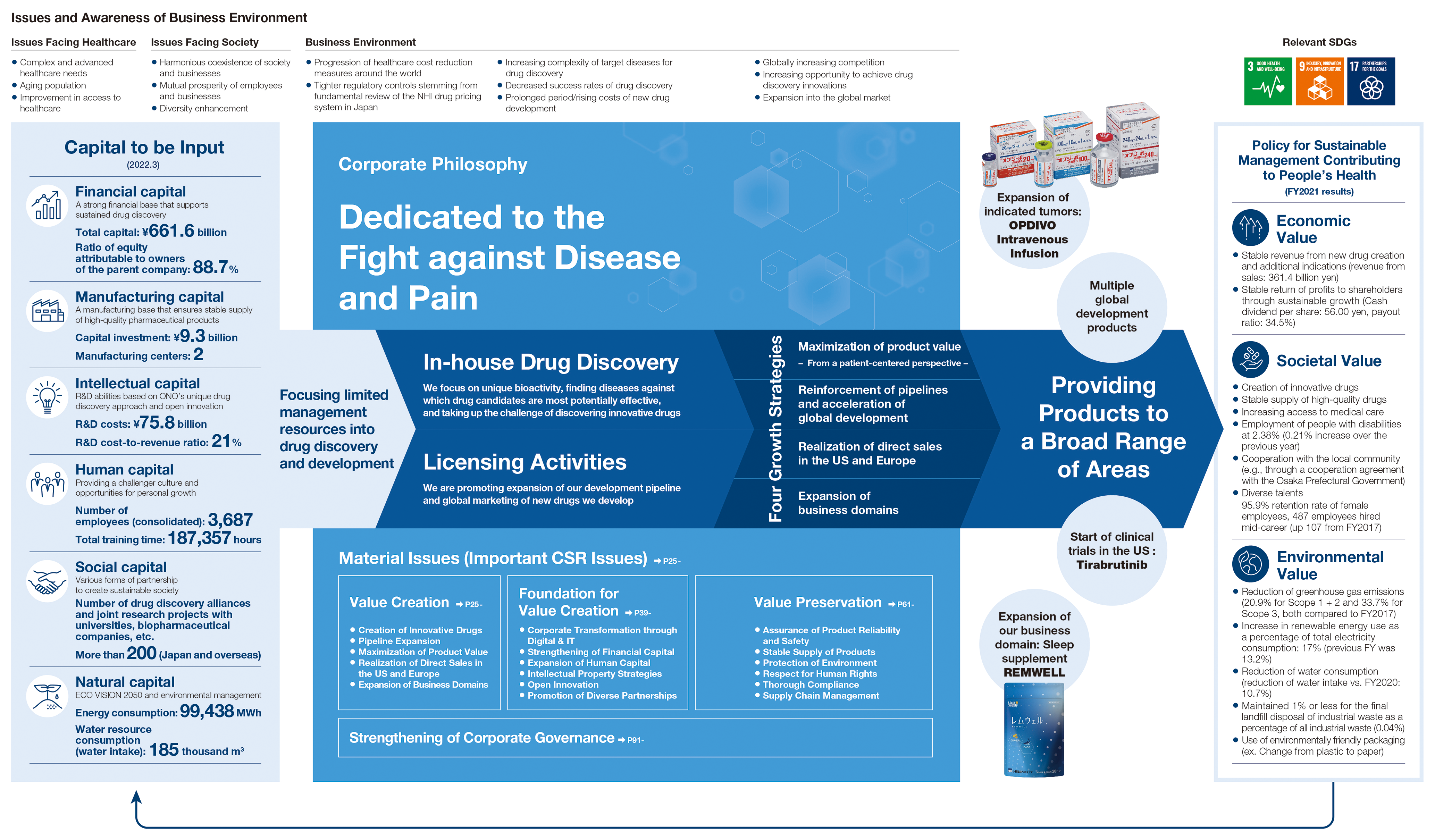 Sustainable Management Policy
We Formulated a New Management Policyto Realize a Sustainable Society for the Next 100 Years.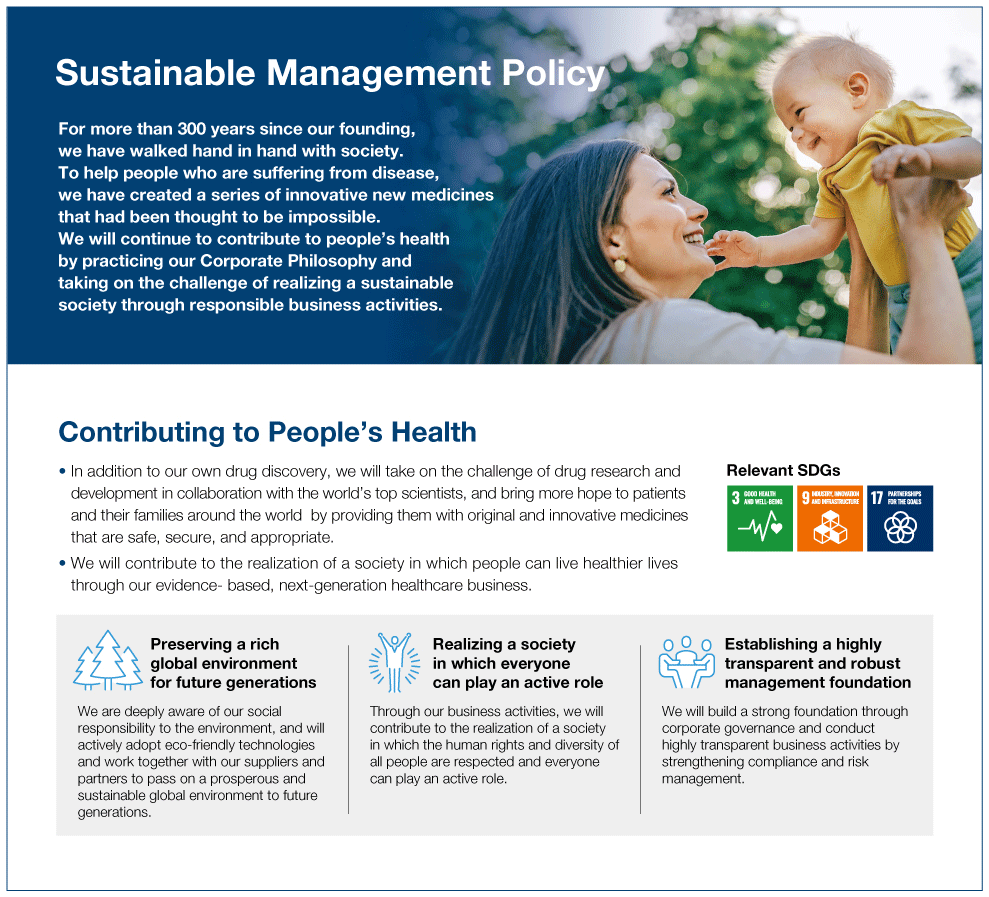 Growth Strategies
Growth Strategy for Continual Growth of the Company and Society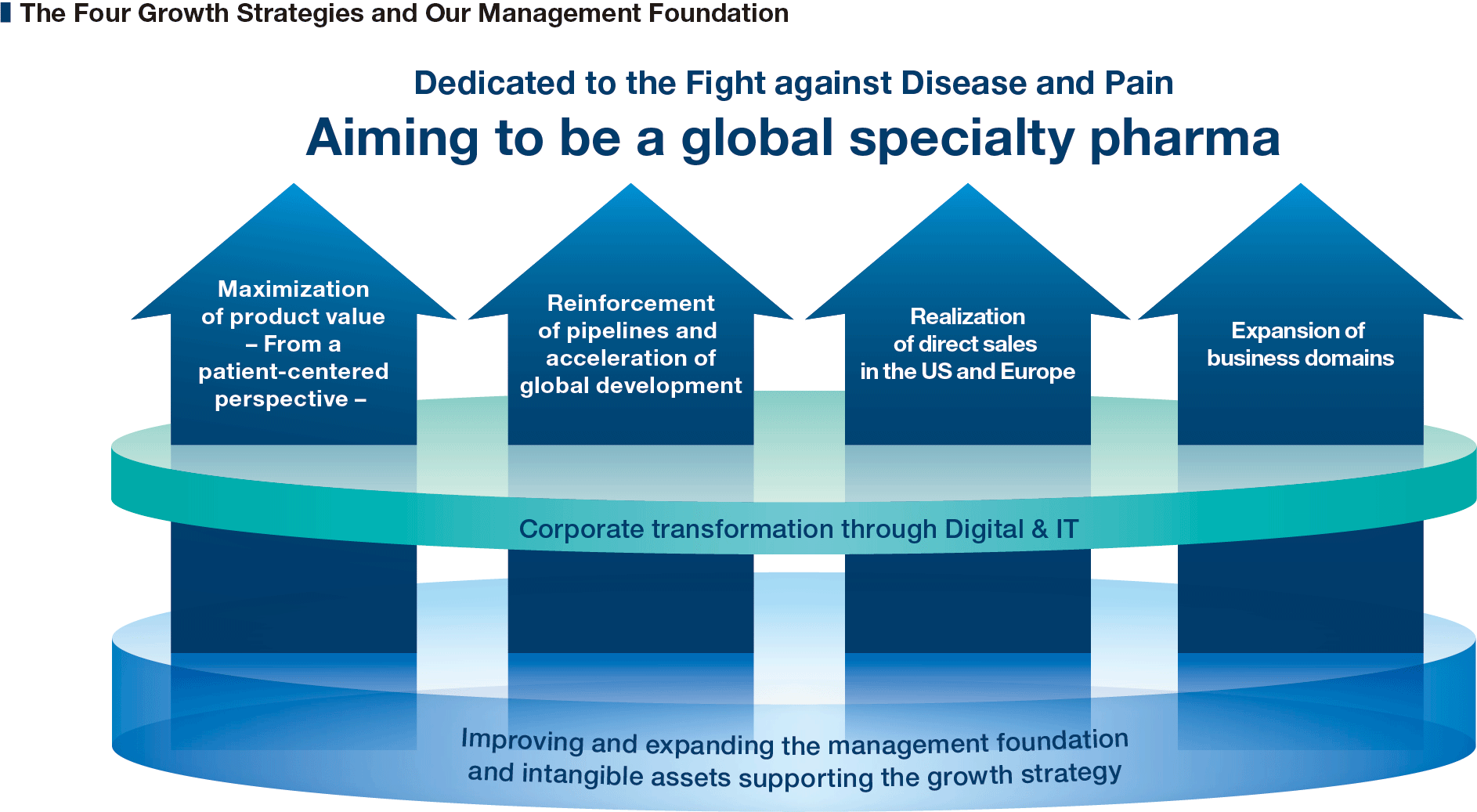 ▽ Maximization of product value - From a patient-centered perspective -
From the perspective of patients, we are committed to speedy and effective development, competitive marketing, and the sophisticated provision and collection of information. With OPDIVO, one of our flagship products, we are working to maximize product value by expanding the number of indications of cancer types, treatment lines, and developing combination therapies.

▽Reinforcement of pipelines and acceleration of global development
Aiming at sustainable growth, we have focused on oncology, immunology, neurology, and specialty as our priority research areas, strengthen research collaborations and drug discovery alliances with world-leading universities and venture companies, and actively in-license innovative compounds to enhance our pipeline. We will also accelerate global clinical development of these compounds, including in the US and Europe.

▽Realization of direct sales in the US and Europe
We aim to achieve sustainable growth while contributing to the medical needs of more patients by realizing sales in the US and Europe. In addition to South Korea and Taiwan where we have already launched our products on our own, we will also aim to sell our products by ourselves in the US and Europe. Currently, we are advancing multiple development projects in the US and Europe, including ONO-4059 (Tirabrutinib) in the US, and we will build the direct sales system as soon as possible.

▽Expansion of business domains
Capturing the growing needs of the health care field, we aim to provide new value. Ono Pharma Healthcare Co., Ltd. leveraged its accumulated research assets to launch REMWELL, which is sleep supplement as the foods with function claims. Going forward, Ono will continue to create new businesses by leveraging its expertise in prescription pharmaceuticals and take on the challenge of solving social issues such as extending healthy lifespans.

【Management Foundation that Support the Growth Strategy : Improvement and Expansion of Intangible Assets】
As the management foundation supporting our growth strategy, we will strive to enhance intangible assets, including renovating our IT infrastructure with an eye toward globalization, advancing digital transformation including the reform of drug discovery value chain, and cultivating global and management talents who can contribute to the business on the global stage.
Material Issues (Priority Management Issues)
We Have Redefined Our Material Issues to Realize a Sustainable Company and Society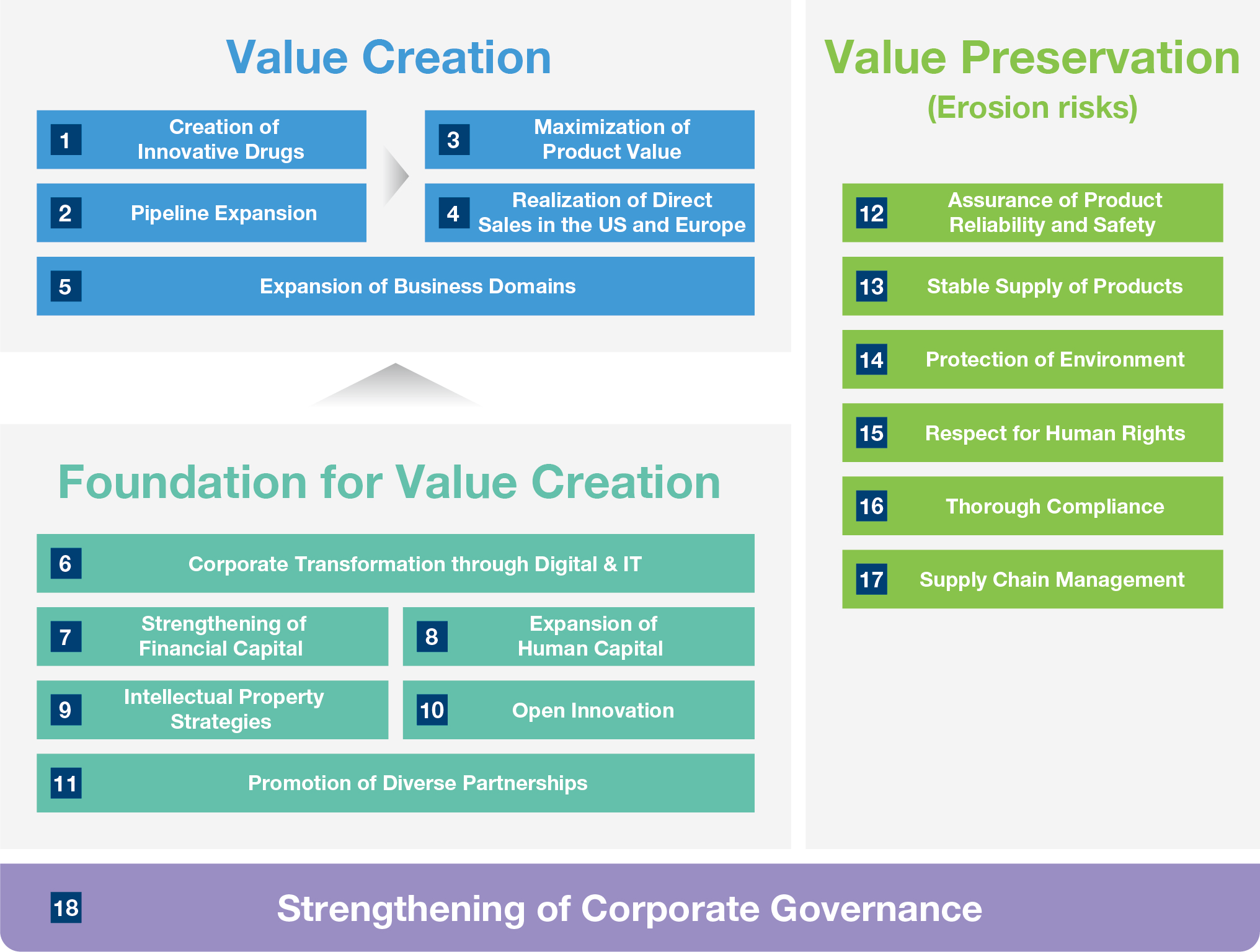 Policy on Medium- to Long-term Investment
Strategic investments are essential for sustainable growth. Although R&D expenses will increase due to aggressive growth investments, we will raise the level of ROE by expanding profits through revenue growth. We will also maintain an appropriate level of shareholders' equity by balancing shareholder returns.
Investment Policy
Even as we make aggressive R&D and strategic investments, we will strictly apply our investment adoption criteria to ensure value creation and profitability. For the five years from FY2022 to FY2026, we will strive to expand revenue at an revenue CAGR in the high single digits compared to FY2021. We will then aim to maintain an operating income to revenue ratio of at least 25% while investing about 20-25% of revenue in R&D. With these levels of revenue growth and expanding profits through aggressive R&D investment as targets, we believe we can achieve ROE that exceeds the cost of shareholders' equity without falling into a short-term orientation. Regarding fund procurement, the Group will ensure the liquidity necessary for smooth business activities, and will do so effectively and flexibly, taking into consideration market conditions and other factors. The Group's current assets far exceed current liabilities, and the source of funds is allocated between funds generated from operations and internal funds.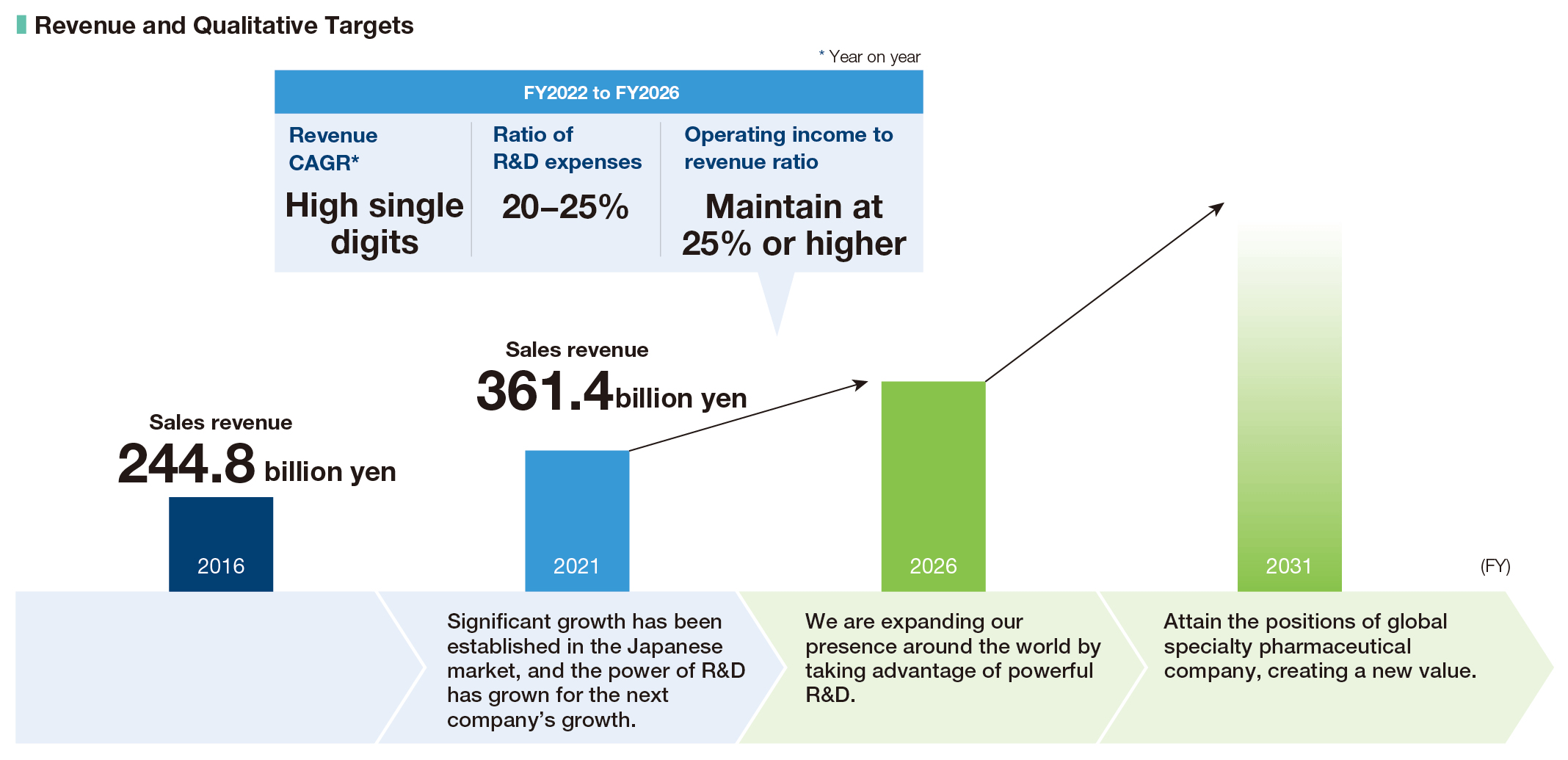 Growth Investments
We are aggressively investing in R&D to create original and innovative new drugs and expand our development pipeline. Along with the expansion of revenue, we plan to increase R&D expenditures to the 100 billion yen-level first, and then in the five years from 2022 to 2026, invest a total of 600 billion yen in R&D. Specifically, in addition to drug discovery alliances with biopharmaceutical companies that possess the world's most advanced technologies, we are actively pursuing research alliances that lead to drug discovery research with universities and other research institutions. At the end of FY2021, we were carrying out more than 200 cooperative research projects in Japan and overseas, and we plan to do even more going forward. In addition to compounds in the late development stage, which are expected to be launched within a few years, we are also strengthening our licensing activities to actively acquire attractive compounds even in the early development stage (preclinical and Phase I).
In addition, Ono Venture Investment Fund I, L.P., established in July 2020, is investing in drug discovery ventures in the seed stage.
In addition to regular R&D expenditures, we intend to invest 150-200 billion yen over the next five years to strengthen our drug discovery business by acquiring global rights to compounds with established PoC.